Okay... here's a few to get your juices flowing.
Let's start with the Patron Saint of Graphic Novels.

(Yes, I know he's Jewish. Yes, I know Will Eisner has a claim to that title as well. Yes, I know he was Jewish as well. Okay okay... Mr. Gaiman is one of the 36 unselfish people who keep comics going. Happy?)
(Hmmm.... the view pops up, but nothing is visible past the front cover! Even the page slider, at the bottom, which shows thumbnails, shows blank pages. Perhaps HarperCollins has removed the images? Most everything else from Gaiman's HarperCollins catalog is available for preview.
HarperCollins has a functional preview
here
. 38 pages!)
(Thirteen pages available to all, fifteen with account)
(Thirteen pages available to all, sixteen with account)
(Ten pages for everyone, twelve with account)

Wolves in the Walls
by Neil Gaiman, Dave Mckean (Illustrator) , Dave McKean (Illustrator)

Online price:
$6.99
(Only the cover! Hardcover is the same. HarperCollins has a preview
here
. Fourteen pages! Heh..."Browse inside the Wolves in the Wall...)

Day I Swapped My Dad for Two Goldfish
by
Neil Gaiman
,
Dave Mckean
(Illustrator) ,
Dave McKean
(Illustrator)

List price:
$17.99
(Cover only! HarperCollins has a preview available
here
. Sixteen pages!)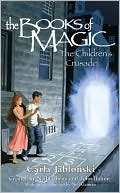 Children's Crusade (Books of Magic Series #3)
by Carla Jablonski, Neil Gaiman (Created by) , John Bolton (Created by)
(Oh. It's a novelization of the comicbooks. Should have known better... DC doesn't post previews on BN.com.)